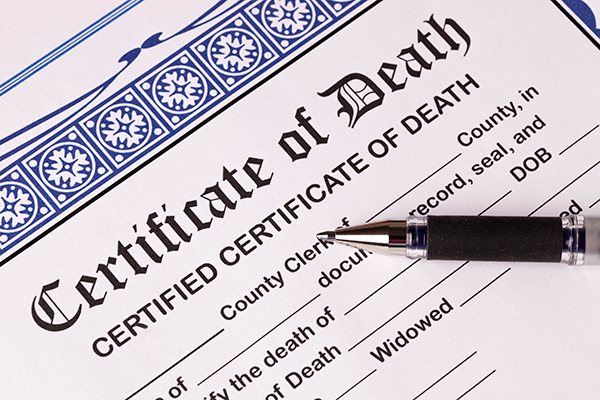 When we are born, we are issued a birth certificate not only for the purpose of obtaining a legal name, but also to notify the United States government of our existence. A birth certificate enables the government to keep track of who owes taxes, who is entitled to social security benefits, who may obtain a driver's license or marriage license and many other important aspects of our lives. But did you know that there is a certificate for when you die?
Death certificates, while not as widely known or discussed as birth certificates, are equally important. Death certificates are government issued documents that include details such as age, race, gender, education, time and place of death, as well as the manner of death.
The History of Death Certificates
The reporting of deaths began in 1900, with all U.S. states collecting mortality data by the mid-1930s. The information on death certificates has changed over time. In the beginning, not every state required ethnicity on their death certificates. By the 1970s, information about the performance of an autopsy was mandatory. In 1987, with the HIV/AIDS epidemic in full swing, the disease was added to death certificates as a new classification. In more recent years, death certificates now include information concerning graduate education, as well as pregnancy at the time of death.
Parts of the Death Certificate
States use the U.S. Standard Death Certificate issued by the Centers for Disease Control and Prevention's (CDC) National Center for Health Statistics (NCHS), and the CDC publishes a handbook intended to help physicians to uniformly fill out the forms. The parts of the form consist of the following information:
Part I: This includes a description of the immediate cause of death and the conditions or sequence of events that led to the death of the deceased.
Part II: This includes a list of the underlying causes of death that may have existed over a period of time or can be a condition that is revealed in the individual's medical history from years prior. Since many factors regarding the cause of death may remain unclear, certifiers may use words such as presumed or probable in order to qualify their conclusions.
Where is the Data Recorded?
Death investigators now perform the majority of U.S. autopsies. According to the National Association of Medical Examiners, approximately 20 percent of all death certificates are signed by either a medical examiner or a coroner, though certain states permit a physician, nurse practitioner or forensic pathologist to sign them. Many states are now moving to an Electronic Death Registration System for filing death certificates. Death certificates must be signed within 72 hours of the deceased's passing and must be given to the state within a period of five to seven days.
Some states consider death certificates to be public domain documents that are permitted to be obtained by anyone regardless of their relationship to the decedent. In other states, however, only legal representatives, parents/guardians, children, or siblings of the deceased may obtain a death certificate.
Why Are Death Certificates Important?
The information on the death certificate is recorded by the State Vital Statistics office and then utilized by the NCHS to prioritize public health funding. Public policy is heavily dependant upon death certificates, as they are the only source providing mortality data, such as what caused an individual's death and what illnesses they had prior to death.
Death certificates also serve important legal purposes. They act as proof for numerous things, including claiming life insurance proceeds, accessing pension benefits, getting married (to prove the death of a previous spouse), arranging a funeral, or settling decedents' estates.
Additionally, an individual's cause of death is important for both criminal and civil legal cases. In criminal cases, causes of death help to determine whether the decedent's death was accidental or intentional. In civil cases, such as personal injury cases for negligence, it is used to help determine whether the actions of the defendant were the cause of an individual's death.
Changing a Death Certificate
Sometimes after an autopsy it is discovered that the original cause of death on the death certificate was incorrect. When that is the case, the law necessitates that the death certificate is amended. However, this can often take an extremely long time, and in some cases getting that information to the mortality division of the CDC is never actually done. If amendments do not arrive from a state by the end of the year, the CDC will close the file and those pending cases will officially be labeled as unknown.
Causes of death can be challenged as hearsay or the credentials and qualifications of the individual who completed the death certificate can be called into question, though neither of these challenges is usually successful.
How Can I Obtain a Copy of a Death Certificate?
You may obtain a copy of a death certificate in three different ways:
Order one through the funeral home (the easiest way assuming you are using a funeral home).
Order one through a third-party company that specializes in them, such as VitalChek (assuming your state allows that), which charges $5-15 per order.
Order through either the state or the country in which the person died.
The cost of each copy differs from state-to-state, though they generally run around $20 per copy. If you are ordering copies yourself (as opposed to ordering through a funeral home), copies may be paid for with check or credit card, but not with cash. Keep in mind that sometimes you can be reimbursed from the estate for fees associated with death certificates if the executor agrees to it. That's why it is a good idea to maintain all associated receipts. It is often recommended to order 10 copies so that you have enough to cover all of the necessary paperwork and other requirements, though individuals with few assets may require as little as three copies. Initial certified copies generally run $10-25.
To locate the state vital records office, simply click on the relevant state link.
The Delaware County elder law and estate planning attorneys of Raffaele Puppio provide comprehensive legal counseling and related services. Contact us today for more information on making informed estate planning decisions.