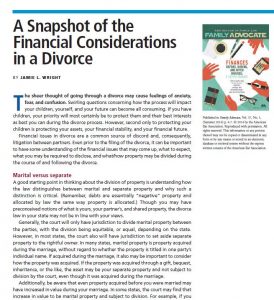 The thought of divorce can trigger fear of the unknown and concerns about your future and the future of your family members. There are many questions to be answered, and all are related in some way to financial considerations involving the equitable distribution of marital assets including retirement savings, possible alimony, child support, attorney's fees and more.
The American Bar Association published A Snapshot of the Financial Considerations in a Divorce. If you are contemplating ending your marriage or in the process of a divorce in Delaware County, and are concerned about the financial issues, this article is worth reading.
The family law attorneys at Raffaele Puppio in Media, Delaware County, are well-versed in managing divorce cases and marital assets. If this is an issue you are facing, we are available to help.
Family Advocate, Vol. 37, No. 1, (Summer 2014) p. 4-7. © 2014 by the American Bar Association. Reproduced with permission. All rights reserved.