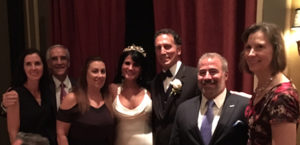 As you might imagine, the attorneys of Raffaele Puppio have a great deal of experience with contracts. Most of the contracts we draft and execute are not particularly newsworthy, but the contract executed on September 9 by one of our senior education law attorneys is an exception.
We are delighted for our colleague, Gabrielle "Gabby" Sereni, who entered into perhaps the oldest form of contract there is when she married the love of her life, Tom Goham.
She is now Gabrielle C. Goham . We've updated her staff page here on the website, as well as her email address. Don't worry if you have emailed her anything at the old address – we've made sure she will receive it.
We were delighted to celebrate Gabrielle and Tom's special day and wish them a lifetime of happiness.
From everyone at Raffaele Puppio, congratulations to the new Mr. and Mrs. Goham.
More about Gabby Goham the Education Lawyer
A graduate of Villanova University School of Law and University of Pennsylvania with a Masters in Education, Gabby joined Raffaele Puppio in 2010 as a partner and chair of the Special Education Department. She represents school districts, charter schools, private schools and intermediate units in special education matters. She has been named a Pennsylvania Super Lawyer by Thomson Reuters and was previously listed among their Rising Stars.
Prior to joining Raffaele Puppio, Gabrielle handled special education law matters as an Associate Attorney at Wisler Pearlstine, LLP in Montgomery County, Pa. She served families on the federal court level for an additional five years as a Senior Shareholder with McAndrews Law Offices in Berwyn, Pa., leading to several precedential decisions from the Third Circuit Court of Appeals which she argued. She has also prepared Memoranda presented to the United States Supreme Court and is a frequent lecturer and sought-after authority across Pennsylvania on special education issues.
A former teacher in the Delaware County public school system, Gabrielle enjoyed a federal clerkship after law school with the Honorable Robert F. Kelly, Sr., United States District Judge. In addition, she clerked for the Honorable Frank T. Hazel of the Delaware County Court of Common Pleas and the Honorable Stephen P. McEwen, President Judge Emeritus of the Superior Court of Pennsylvania. Early in her legal career, Gabrielle was an intern with the Delaware County District Attorney's Office.
Gabrielle volunteered her time as Legal Advisor for the Pennsylvania Association for Gifted Education from 2010 through 2013. She resides in Delaware County with her husband and three young sons.