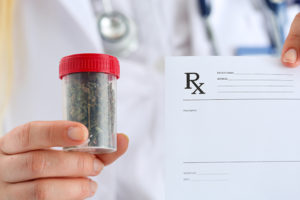 Pennsylvania has legalized the use of medical marijuana for certain specified ailments. Those ailments include the following:
• Amyotrophic Lateral Sclerosis (ALS)
• Autism
• Cancer
• Crohn's Disease
• Damage to the nervous tissue of the spinal cord with objective neurological indication of intractable spasticity
• Epilepsy
• Glaucoma
• HIV/AIDS
• Huntington's Disease
• Inflammatory Bowel Syndrome
• Intractable Seizures
• Multiple Sclerosis
• Neuropathies
• Parkinson's Disease
• Post-Traumatic Stress Disorder
• Severe chronic or intractable pain of neuropathic origin or severe chronic or intractable pain in which conventional therapeutic intervention and opiate therapy is contraindicated or ineffective
• Sickle Cell Anemia
The law also specifies that medical marijuana can only be utilized in particular forms, that is: pill; oil; topical forms, including gel, creams or ointments; tincture; liquid; and a form medically appropriate for administration by vaporization or nebulization, and smoking continues to remain illegal under state and federal law.
The challenges for employers in Pennsylvania lie primarily in the areas of employee use while at work, job performance, and disability status.
PA Employee Use of Medical Marijuana While at Work
Pennsylvania employers may already have workplace policies in place prohibiting the use of drugs while on the job. Employers who receive federal grants or are federal contractors must abide by the Drug Free Workplace Act by abiding by drug-free policies, engaging in employee training, and providing assistance programs against abuse. Pennsylvania's Medical Marijuana Act does not require employers to make accommodation for the use of medical marijuana in the employer's premises and/or while the employee is at work. PA employers also are not required to allow an employee to possess the medical marijuana on employer premises. The Act expressly states that it does not require an employer in Pennsylvania to commit any act that would put the employer or any person acting on its behalf in violation of federal law.
The Act also recognizes that medical marijuana patients should be restricted from performing certain tasks or while working with particular elements. Employees using medical marijuana may be barred from operating or being in control of high voltage electricity, any public utility or certain chemicals while the level of tetrahydrocannabis (THC) in their blood exceeds 10 nanograms per milliliter of blood in serum. In addition, the employee-patient may not perform any employment duties at heights or in confined spaces while under the influence of medical marijuana. Finally, the Act permits employers in Pennsylvania to prohibit the employee from performing any task which the employer deems as life-threatening to the employee or other employees, while under the influence of medical marijuana.
Job Performance Issues Related to Medical Marijuana Use at Work in PA
The Medical Marijuana Act also leaves intact the Pennsylvania employer's ability to discipline an employee who is under the influence of medical marijuana while in the workplace.
Employers may discipline an employee who works while under the influence of medical marijuana where the employee's conduct "falls below the standard of care normally accepted for that position."
The application of the Act in this area has yet to be determined which will likely be a hot topic for Pennsylvania employment lawyers, government and municipal lawyers, and school lawyers alike. You can read about how the Medical Marijuana Act has affected schools in a previous post: Medical Marijuana Use at Schools in Pennsylvania.
Disability Status and Issues Related to Medical Marijuana Use at Work in PA
While the foregoing employer concerns seem to be answered, at least in part, by the Medical Marijuana Act, a complicating factor that has yet to be addressed in Pennsylvania is how the employee's potential disability status impacts employer decision-making.
Provided the list of serious medical conditions and the lowered threshold of disability status under the Americans with Disability Act, it is likely the employee will be an individual covered by the ADA. The Medical Marijuana Act directly prohibits discrimination or retaliation against an applicant or employee solely because the person is certified to use medical marijuana. Nevertheless, as set forth above, the Act hints that use of the drug while at work is not a reasonable accommodation and permits discipline. The ADA requires employers to make accommodation for any employee who is a qualified individual with a disability. The ADA does not require accommodation around illegal drug use, which includes drugs such as marijuana that continue to be illegal under federal law. However, the ADA excepts use of marijuana that is used under supervision by a licensed health care professional or other uses authorized by the federal Controlled Substances Act or other federal law. Courts considering medical marijuana use by employees while on the job have largely favored the employer's ability to make and enforce workplace rules against use of marijuana.
What is clear is that the law contains many areas of ambiguity that have yet to be defined by the various departments and agencies, including Pennsylvania courts, involved in administering and enforcing the law.
Employers face more challenges than ever before, including interpretation and implementation of the medical marijuana laws in Pennsylvania. Raffaele Puppio's lawyers have decades of experience counseling entities throughout Pennsylvania and particularly in Delaware County. If you are facing issues regarding the use of medical marijuana at work in a Pennsylvania, contact our lawyers. We are here to help.