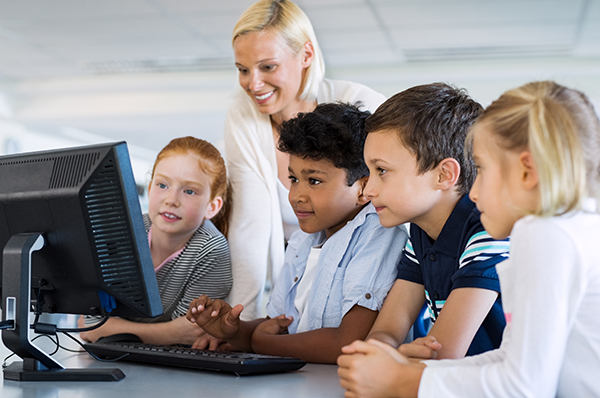 The increase in technology in the classroom is due to the realization that technology is necessary to prepare students for the world we live in. It has largely been a voluntary effort by school districts, who have the funds, embracing innovative and interesting ways to help students learn. There has also been growth in online schools and blended learning programs where students combine both electronic and traditional forms of learning. However, as we move away from using just books and pencils, it is important to understand the role of the teacher in providing digital education and how using technology affects his or her rights and responsibilities as educators.
In bringing technology into the classrooms, teachers should be aware of circumstances expanding, requiring, or limiting its use.
• Digital citizenship skills. Look no further than current headlines to know that online information is fraught with intentional misinformation as well as inappropriate or potentially dangerous content. Students should learn the skill of how to navigate online information and to conduct responsible online research. They should also know how to think critically about the information they're reading online and question the source of the information.
• Different Learning Styles. A one size fits all approach to learning is outdated. Many online schools and blended learning programs offer innovative approaches that keep a variety of learners engaged. Online and blended programing offered by educational leaders such as Pearson, an education publishing and assessment service, recognize that digital education is necessary to prepare students for the future.
• Future Employment. Any student graduating and entering the workforce will need to have some level of technology skills. According to the U.S. Department of Labor, employment of computer and information technology occupations is projected to grow 13 percent from 2016 to 2026, faster than the average for all occupations.
• Standardized testing. In Pennsylvania, schools have the option, if available, for their students to complete the Keystone and Pennsylvania System School Assessment (PSSA) assessments online. As more assessments turn to online or electronic testing, Students should be comfortable and accustomed to using a computer or a device for testing.
• Equity. In its recent National Education Technology Plan, the U.S. Department of Education, Office of Educational Technology, promoted the continuing need to provide greater equity of access to transformational learning experiences enabled by technology. The need for equitable learning includes adding required infrastructure and supports to bring equitable access to schools across the country, particularly for rural students and students living lower socio-economic communities.
• Special Education. Providing technology may be necessary to provide a student with special needs a free appropriate public education (FAPE) under the Individuals with Disabilities Education Act (IDEA). For students with communication or processing needs, a school may need to perform an Assistive Technology Assessment. Teachers may need to request that the school utilize a decision-making framework for determining the right type of technology such as the SETT (Student, Environment, Task, Tools) framework. For example, Augmentative/Alternative Communication (AAC) is a type of assistive technology often used in speech-language pathology. Examples can include an app on an iPad or a dedicated text to speech device. Other students may benefit from listening to digital text books and manipulating or highlighting the text. Technology can also be used to help organize and prioritize material for students with executive functioning deficits.
• Equal Access. If a teacher uses certain devices, such as iPads or Chromebooks, then all students should have equal access to the technology. While there is no specific law requiring that a teacher use technology, for students with special needs, if their Individualized Education Program (IEP) states that he needs Assistive Technology (AT) then the teacher must use, and know how to use, the AT as needed.
• Limiting Access. The individual policies of a school district will often outline the permissible uses of technology in the classroom. Some policies include restrictions on recording, or using smartphones during the school day. With the majority of high school students bringing smartphones into the classroom, rather than constant reminders to put the phones away, some teachers seek ways to incorporate educational research, reminders, organizational tools, and collaboration into students' daily cell phone use.
Technology use will continue to grow and change in the classroom. Teachers have the right to limit and decide how technology will be used in their classroom, but they will need to be able to incorporate technology into their teaching as we move toward a more digital and technological world and to ensure access for all students.
If you have any question about technology in schools, Raffaele Puppio has quickly moved to the forefront among firms providing comprehensive legal services to schools, municipalities and governmental units. Get in touch with us today if you have any questions.