Tru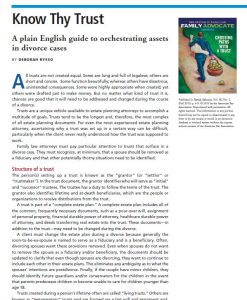 sts are a unique vehicle available to estate planning attorneys to accomplish a multitude of goals. They tend to be the longest and most complex of all estate planning documents. For even the most experienced family law attorney in Delaware County, ascertaining why a trust was set up in a certain way by the original estate planning lawyer can be tricky.
The American Bar Association published Know Thy Trust, a plain English guide to orchestrating assets in divorce cases. If you are contemplating ending your marriage or in the process of a divorce in Delaware County, and there are family trusts that need to be addressed, this article is worth reading.
The family law attorneys at Raffaele Puppio in Media, Delaware County, are well-versed in managing trust assets in divorce cases. If this is an issue you are facing, we are available to help.
Family Advocate, Vol. 38, No. 2, (Fall 2015) p. 6-9. © 2015 by the American Bar Association. Reproduced with permission. All rights reserved.